Paul Gauguin Cruises are an invitation to enjoy complete relaxation in a setting of incomparable beauty. Excursions relevant to your tastes, tailored offers, a luxury package and exclusive discoveries are the signature features of our cruises, ensuring you take advantage of everything these gorgeous islands have to offer.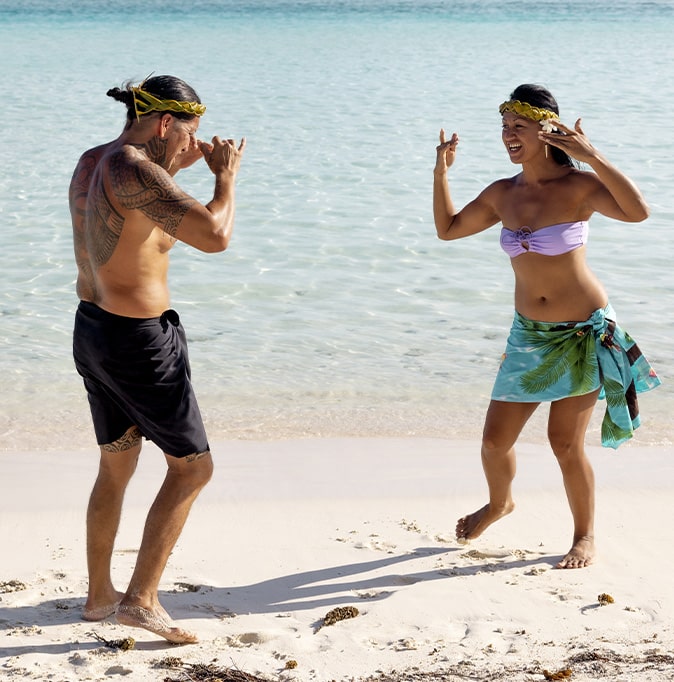 The Gauguines
and Gauguins
They're on hand from the moment you arrive - the Gauguines and Gauguins are the true spirit of Paul Gauguin Cruises. These Tahitian hosts are there to make sure everyone's in a great mood onboard the ship, and to share the magic of the Polynesian lifestyle. From songs, dances and stories, to learning their language and how they make jewels or knot their traditional wrap-around skirts, the team will be there to enrich your experience for the duration of your cruise.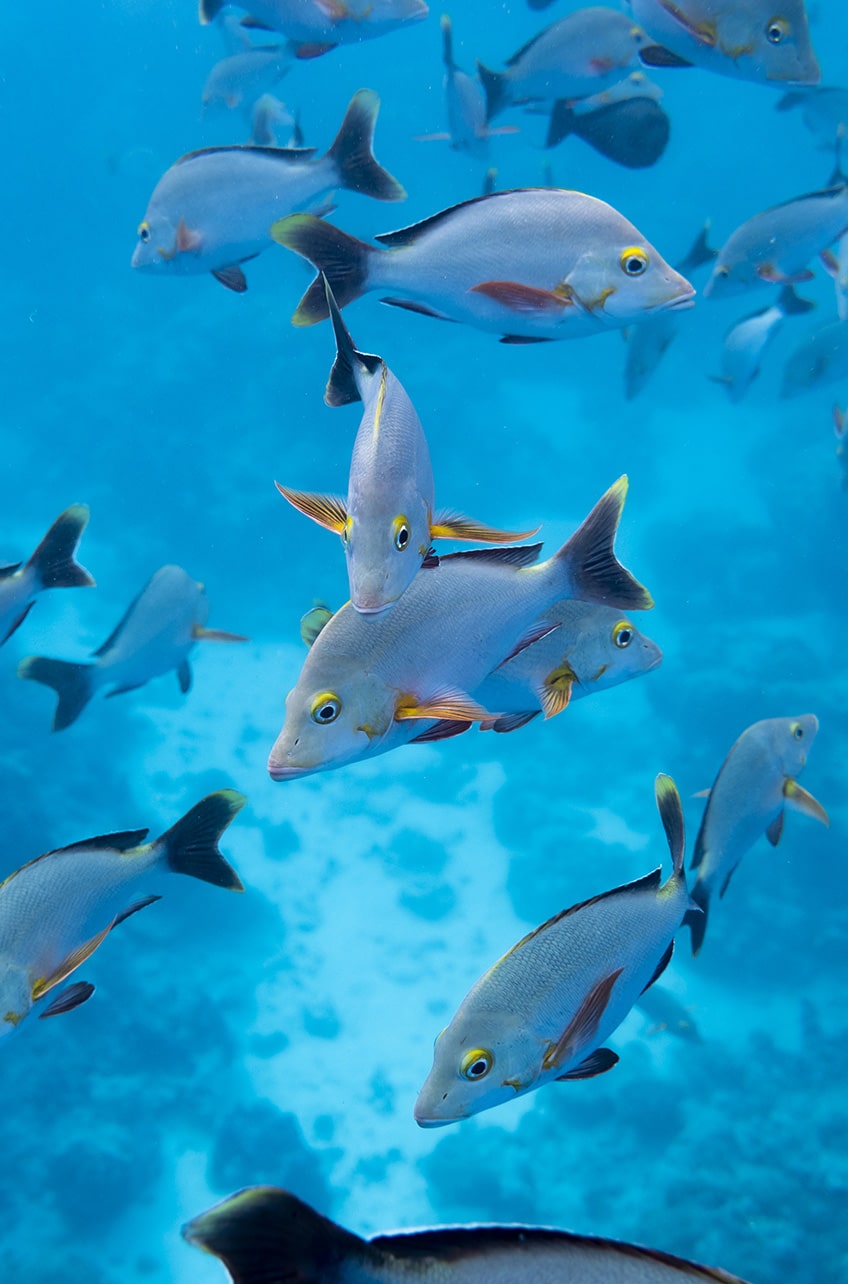 Adventures every day on land and at sea
The turquoise waters of the lagoons and the Pacific Ocean are ideal for enjoying water-based activities such as kayaking and boat trips. Go diving from the ship's marina and explore the glorious underwater depths. The m/s Paul Gauguin has its own diving centre on board with certified instructors - a fantastic opportunity to enjoy unforgettable encounters with dolphins or sharks at the Tuamotu Islands, Manta rays at Bora Bora, and hundreds of multi-coloured fish.
Visit a black pearl farm, enjoy a bike trip or a 4x4 excursion, go on hikes and archaeological expeditions, take a helicopter flight: there's such a wide selection of excursions giving you the chance to venture right to the heart of these islands, rather than just staying by the shore.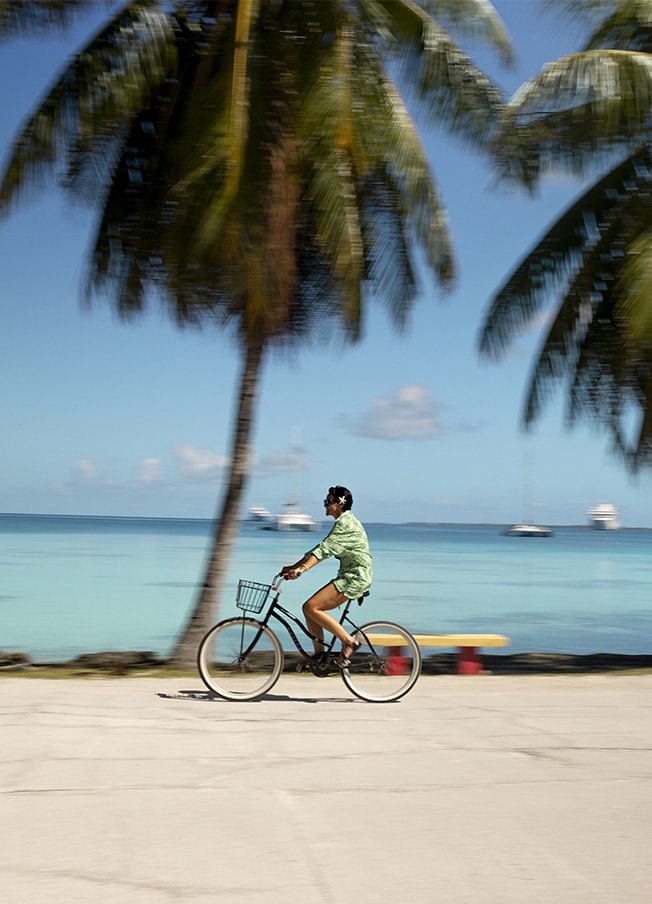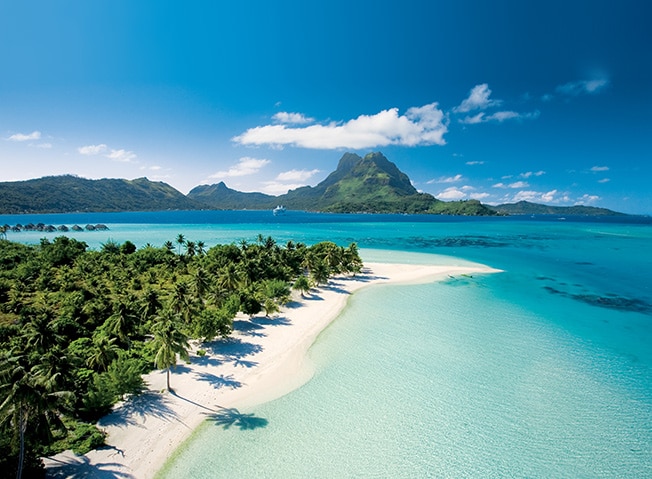 Private retreats at Bora Bora and Motu Mahana
Paradise has a different meaning altogether when you feel wholly at one with the nature around you: fine sand, peaceful crystal-clear water gently rippling in the shadow of the palm trees.
Enjoy private experiences in Bora Bora or at Motu Mahana, a sandy islet off the Isle of Taha'a, accompanied only by the gentle island breeze.
Bathe, meditate, kayak, snorkel... moments of complete serenity await.

Sit back and relax,
all-inclusive
On board, benefit from an all-inclusive package.

Activities
Entertainment and conferences on board
Watersports (excluding diving)
Access to the beach at Bora Bora and Motu Mahana, exclusively for your use

Services
Butler and bar service in category B suites and above
24/7 room service

Meals and drinks
Every meal, from dinner the first evening to breakfast on the last day
Tea and light snacks at 4pm
Aperitif and petit-fours at 6pm
Minibar re-stocked every day with non-alcoholic drinks, mineral water and beer
Wine, alcohol and non-alcoholic drinks (excluding Sommelier menu, Grands Crus and Vintage)

Also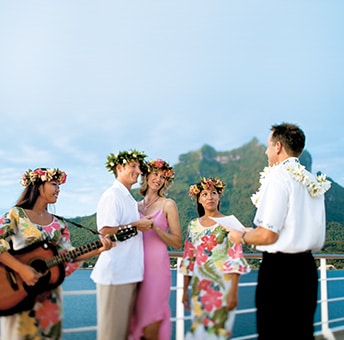 The honeymoon offer
A dream honeymoon trip destination, French Polynesia appeals to lovers the world over. To celebrate your wedding, enjoy a traditional Polynesian blessing* given by the Gauguines and the Gauguins. As they envelop you in a tifaifai, they pass on their ancestral marriage ritual to you. We also offer you a bottle of Champagne to enjoy in your cabin.
*This ritual is also offered to couples celebrating their wedding anniversary.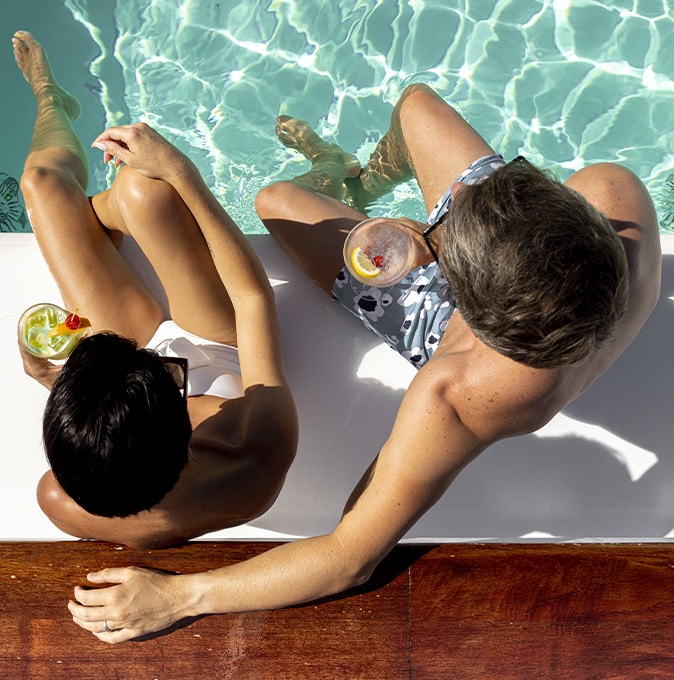 Family and
friends offer
A Paul Gauguin cruise with family or friends will make memories that last a lifetime, so we have the perfect package. A third person aged 17 or under, sharing a cabin with two adults, only pays port charges.
A third person aged 18 or over, sharing a cabin with two adults, pays €147 a night plus port charges.