PONANT supports Use It Again! by Extia
In Ushuaïa, Christophe Colaris, Captain of Le Lyrial, saw skipper Romain Pilliard on the quay and his sailing boat Use It Again! by Extia in a bad way, after grounding in Cook's Bay. He immediately made his crew and logistics resources available to assist the trimaran. This act of solidarity so natural to all seafarers turned out to be the start of a new adventure: after a month working on repairs, Romain Pilliard resumed his westabout round the world with Christophe Colaris aboard as a new team member, and PONANT as a new partner.

We are a company founded by sailors and have always been committed to protecting the oceans. Use It Again!'s ambition touched us in a very simple and obvious way. After our crew spontaneously went to assist these sailors, we have decided to support the project. We share with Romain Pilliard the conviction that we can do things differently and take on the biggest challenges by limiting our environmental impact. We will be following the next stages of this adventure with great enthusiasm!
Hervé Gastinel, CEO of PONANT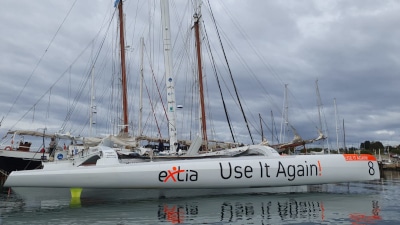 Fully operational again, today Use It Again! by Extia casts off to cross the Pacific in fifteen days to reach Tahiti, the next port of call on her westabout round the world to raise awareness of ocean protection and to promote the circular economy.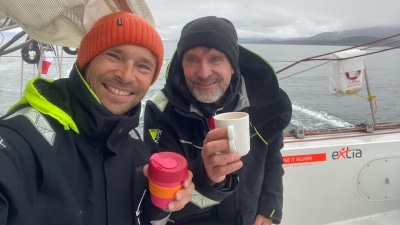 And for the next stage Romain Pilliard has invited Christophe Colaris to join as crew. Our Captain is no novice, as he's been sailing since he was ten and already has several transatlantics under his belt. However, sailing on an Ultime class trimaran is an all-time first for him.

When Romain suggested I do the crossing with him, I was not immediately convinced. Still, it's quite a big challenge. And then I agreed, as it's an opportunity that won't come around again. To sail the Pacific Ocean this way, it's a sailor's dream.
Christophe Colaris, Captain of Le Lyrial
Use It Again! by Extia is expected to reach Lorient in France in July this year.
For more information: Use it again ! by Extia

Christophe played a huge part in the success of the Use It Again! adventure in Ushuaia. He's a good sailor and even though he is not used to sailing this type of boat, I know I can count on him. I'm happy to share this experience with him. It will be a great adventure for both of us!
Romain Pilliard, Captain of Use It Again ! by Extia
Photo credits: ©Use It Again ! by Extia