PONANT is supporting the autonomous solar-powered vehicle project developped by Team POLAR

A ship of scientific research opportunity, Le Commandant Charcot regularly hosts researchers from all over the world. At the end of December 2021, two Dutch students from Eindhoven University of Technology embarked onboard to carry out essential research for their project of developing an autonomous solar-powered vehicle for use by researchers in polar environments.
The mission proved a success. In particular, the students were able to collect and analyse light intensity and solar radiation data using two pyranometers, one to measure the direct light from the sun and the other to measure the indirect light.

The sun's intensity is very low, as is the temperature. The solar panels and the batteries tend to perform poorly in these kinds of conditions. We're therefore looking at ways of making the system stand up better to bad weather. The whiteness of the surroundings and the absence of points of reference are also a challenge in terms of the self-driving aspect.
Ewout Hulscher, Team POLAR team manager

Team POLAR, which is made up of 17 students from different fields of research, is developing a prototype autonomous solar-powered vehicle. The vehicle's movement will be powered by integrated solar panels, with special sensors enabling it to find its way without the need for human intervention. Ewout and Oscar had the pleasure of representing the team on this research voyage to the Antarctic onboard Le Commandant Charcot.
"Studying this continent is important to find answers to climate change and Team POLAR strives to carry out its research in the most sustainable way with the smallest impact possible," says Oscar Mannens.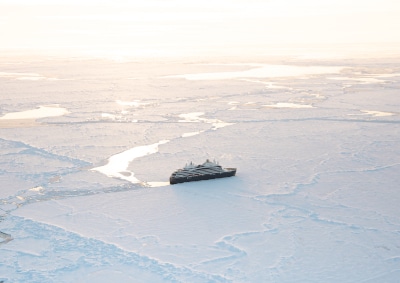 Le Commandant Charcot, a polar exploration ship designed with the highest attention in mind in terms of safety, comfort and respect for the environment is fitted with facilities and equipment for research : a unique platform to study the polar eco-systems.